---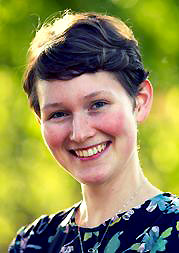 Juliana Kay
Juliana Kay (BA, MTeach) is a teacher, conductor and composer with a lifelong interest in choirs and choral music. She teaches music at Canterbury Girls' Secondary College, and is the assistant conductor of the internationally-touring youth choir Exaudi. In 2018 Juliana established chamber choir Choral Edge to experiment with new performance formats and possibilities in choral music.
As a performer, Juliana has sung and toured with some of Australia's finest chamber choirs, including Ensemble Gombert, Polyphonic Voices and The Australian Voices. Her experiences as a singer and conductor inspired her to turn to composing and she now writes regularly for children and community choirs. Her compositions have been performed by Exaudi, Choral Edge and the Australian Boys Choir training groups, and she is a represented artist on SingScore.
---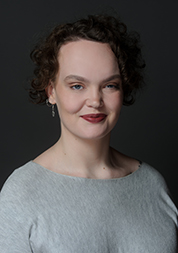 Sian Halloran
Sian's a theatre producer, technician, and enthusiast. Since being Intern to the Artistic Director at Monash Uni Student Theatre in 2016 and completing a Diploma of Live Production and Technical Services in 2017, she's since produced two shows at Melbourne Fringe Festival: award-nominated Stories from the Choir (Choral Edge, 2018) and antony//cleopatra (Monash Shakespeare Company, 2018).
She's also worked for the Melbourne International Comedy Festival as a technician, designed Gravel (HomeBrand Comedy, 2018) at Theatre Works, stage managed Festen (Play Dead Theatre, 2018) at Ripponlea Estate and stage and production managed Disparate Scenes for Millennial Dreams (Periscope Productions, 2019) at Meat Market Stables.
Sian has been singing in choirs for most of her life and now sings in Exaudi, as well as producing Choral Edge.
---