---
Upcoming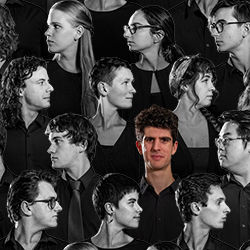 1+1=3
1+1=3 is a concert experience that is more than the sum of its parts. Combining the talents of pianist Tim Mallis and innovative chamber choir Choral Edge, 1+1=3 brings piano and choir together as equals in a dynamic mix of the old and the new.
Hear Debussy and Rachmaninoff alongside Whitwell and Shank, and find out what happens when worlds collide and music becomes more than just music.
---
Past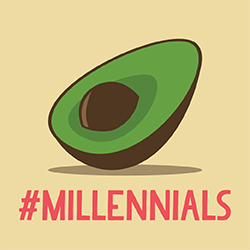 #Millennials
Created and Directed by: Juliana Kay
#Millennials is a choral music concert, with a program consisting entirely of pieces by Millennials composers (born between 1980 and 2000), local and global.
This concert is not only a performance of beautiful music, but also a celebration of young and living artists. Performed over brunch, #Millennials immerses audiences in an atmosphere that captures (with a touch of irony) the spirit of being a Millennials.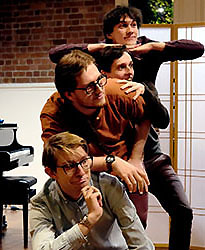 Stories from the Choir
Created by: Juliana Kay
Produced by: Sian Halloran
Musical Director: Juliana Kay
What does it mean to be in choir? Why is it so hard to find a good tenor? What really goes on in the back row?
What happens when you let a choir loose in a theatre?
Part theatre, part journalism, part concert, Stories from the Choir presents the human narratives behind one of the world's oldest forms of music-making. Interviews collected from choristers around Australia are staged and set to a live choral soundtrack in a touching production that speaks larger truths about community and connection in the modern world.
Nominated for Best Music at the Melbourne Fringe Festival in 2018.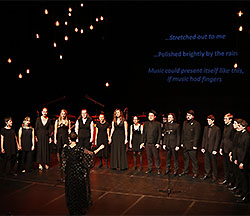 Play Me a Poem
Directed by: Galit Klas & Evelyn Krape
Produced by: Kadimah Jewish Cultural Centre and National Library
World-renowned Australian songwriters including Deborah Conway, Paul Grabowsky and Lior spearhead the world premiere of Play Me a Poem—an absolutely unmissable show of traditional and modern Yiddish verse, transformed as new songs penned in contemporary music styles such as rock, funk, pop, reggae, electronica, and more.
The songwriters, who also include Willy Zygier, Josh Abrahams, Simon Starr, Adam Starr, Tomi Kalinski, Jess Cornish and Juliana Kay bring the whimsical, lilting and often heartbreaking lyrics of decades and centuries-old Yiddish poetry to life with their original creations.
Each artist was invited to write a tune for a selected piece of poetry and create a new and original song. Poems were drawn from the rich anthology of Yiddish verse from before and after WWII, and the musicians were invited to perform their poem in whichever musical style they chose.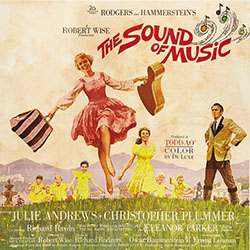 Sound of Music Singalong
Wyndham Cultural Centre Sunday Movie Club
The hills are alive with a good time as Sunday Movie Club sings along to The Sound of Music. Cut up the curtains, dust off the Lederhosen or get back in the Habit and join the costume competition. Channel your inner Von Trapp for a raucous sing along to one of the greatest musicals of all time!
Our hilarious MCs lead a special vocal warm up to get you ready to belt along to all your favourites from the 1965 classic movie.
---